BLOG: THE (NOT-SO) SECRET RECIPE
With whisky drinkers becoming more educated, there is a growing interest in the behind-the-scenes making of their favourite drams. When it comes to our own blended scotch, we talk of the use of a complex dual-maturation system to create depth, richness and most importantly, balance. But do you know what this process involves?  Let us show you…
The past several years have seen a huge growth in transparency in the whisky industry. Not only in terms of cask types used but, in some cases, details as intricate as the exact origins of the barely. This push towards honesty has aligned with the increasing number of consumers seeking a more in-depth look into the making of their favourite whiskies. We believe that transparency is key to enable drinkers to understand not only the precision, but the passion that goes into the creation of each of our releases – a topic which we discussed in our previous blog – Against the Grain. As well as disclosing the ratio of malt to grain in our blends, we want to give a detailed look at the maturation process of our expressions.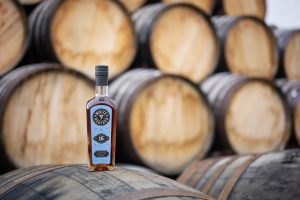 Both our 15-year-old and 21-year-old undergo a two-step maturation journey. Lets delve deeper into what this looks like…
Each individual component, malt and grain whiskies from the selected distilleries, was initially matured in either 1st fill American oak, 2nd fill barrels & hogsheads or specially selected Sherry butts. The primary maturation period at a high strength allows the spirit to extract rich flavours from the wood, developing their own unique identities. After over a decade of slumber, the malt and grain whiskies are disgorged from each cask. It's at this point where Master Blender, Billy Walker begins to craft the recipe in his on-site lab. With an array of samples, each is assessed through careful nosing and sampling. This meticulous process allows only the finest spirit, exhibiting the required characteristics, to be selected for the first stage of blending. As a boutique company, we're not bound by the constraints of consistency, meaning that each component is selected for its own merit. There are a huge host of factors – season, warehouse position, cask type – that affects the way in which the spirit matures, meaning that although we can take a pretty good guess, there is no guarantee that the flavours you expect to taste will be present; this is what makes our hands-on philosophy so important.
Once the exact recipe has been determined, the malt and grain whiskies are married together at a ratio of 47:53. Rather than opt for a shorter finish, the resulting scotch is laid to rest for a further three years in a selection of Pedro Ximénez & Oloroso puncheons, along with medium toast/medium char American virgin oak casks. Ageing the malt and grain whiskies together for an extended period in each selected cask allows for a harmonious marriage of flavour profiles, creating an equilibrium between each individual component. Spirit, particularly grain and malt whiskies, from different distilleries each have a distinct character, so skill and patience are key to creating a well-balanced result. After approximately three years of secondary maturation, it's back to the lab. Samples are again drawn to create the final pilot sample, a precise recipe of the intending vatting. When combined, each ingredient in the recipe must bring out the finest qualities in each other – the challenge of the blender.
The question might still remain… how important are the specific casks that are used? The only answer is, very. According to Billy, oak contributes 70% to the total experience of a whisky, meaning that the finest wood is essential to creating the finest dram. As with all brands in The GlenAllachie Distillers' portfolio (The GlenAllachie, MacNair's Boutique House of Spirits, White Heather), only casks up to 2nd-fill are used to maintain the quality and flavour of the spirit. Using a combination of virgin oak, 1st and 2nd fill casks for maturation allows for varying influence. The virgin oak casks offer an intense injection of colour and flavour, whilst the re-fill casks provide an opportunity for a more mellow maturation. When it comes to creating the blend, this offers the artist (blender) a broad range of colours (components) to paint their canvas with and ultimately create something truly spectacular.
Discover more about each of our unique expressions here.